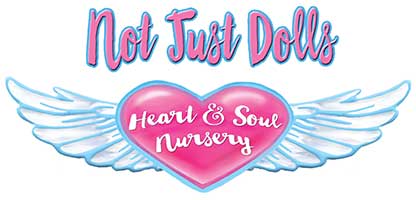 Kustom Kids by Not Just Dolls
Kustom design your adorable child forever in a doll!  Our Kustom Kids are 22 inch dolls.  You choose your face, skin, eye, body style and hair color for your doll.  There are over 4,000,000 doll combinations so you can create your own Look-a-like doll of anyone!
Kustom Kids wear real NEWBORN size clothes. You will not have to buy DOLL clothes. Which make it a great buy right there since doll clothes cost more than real baby clothes.  So if you have your child's favorite baby outfit put up in a box somewhere it is time to get it out and have a Kustom Kid made of your child and give it to the child to play with, to a grandmother or to anyone special. Our Kustom Kids are made of top quality vinyl made in the USA not China. Who else can say that. They have soft cloth bodies and are hand stuffed by us with BRAND NEW stuffing so we know they are safe. Our goal at Heart & Soul Nursery is to make Great MOMMIES for our future generations.  Help us  "Change the world one baby at a time."
We have Nursery Baby Adoption Center by appointment in Royse City Texasand monthly at First Monday Trade Days in Canton Texas.  Adopt your own Reborn style babies, realistic baby dolls or a "Kustom Kid" custom made dolls to look like your child or just a baby to play with.  We provide a doll hospital to repair all types of dolls and have an appraisal service.  We carry dolls to play with or collect. Ashton Drake, Adora, J C Dolls, Madame Alexander, American Girl Size Dolls, clothes and Barbies.  If you are looking for something let us know.  
ASHTON DRAKE
We stock a large selection of Ashton Drakes
NEWBORNS AND INFANTS
We carry realistic looking babies for all ages.
TODDLERS & OLDER CHILDREN
Large dolls
BARBIES NEW, VINTAGE & ACCESSORIES
We are always buying collection
KUSTOM KIDS
Custom made babies to look like your child
EVERYTHING ELSE DOLL
Furniture, clothes and accessories
December 27, 2015
The only thing my daughter wanted from Santa was a doll that looked like a real baby and while looking at them online she kept going back to " Little Peanut" and saying she wanted Santa to bring her "that one!" Quickly realizing the doll was not available from Ashton Drake in time for Christmas, my husband and I searched online for other places who may have the doll. Lucky enough we were able to find "Not Just Dolls" in time and the overall experience of working with Susan was amazing! Not only did she have the doll in stock, she was able to send it express mail allowing us to have it the next day! She truly cares about helping the customer and we look forward to working with her more in the future! Thank you again for helping Santa save Christmas… lol
Emily Cantu DiBucci
September 17, 2016

We contacted Suzanne about repairing my daughters doll. This doll goes everywhere with my daughter for the last 7years. Suzanne was so nice and understanding. She received the doll on Friday and worked all day, so that Miranda would not go another night without her baby. Once we arrived, so was so patient as Miranda wanted to explore every doll in the shop. We ended up leaving with a repaired baby and a new baby carrier. As you can see from the photos, it is a big hit! I want to say Thank You!!!! Excellent quality on the repairs, amazing turn around time, most important you are kind and understanding!!!
Wendy Adams Mack